Villa Layout
Within Villa Adasa's high-walled garden, three inter-connected buildings are neatly arranged in a U-shape around the pool. Furthest from the teakwood entrance doors is the two-storey bedroom wing, with two guest bedrooms opening onto the garden and a huge master suite occupying the entire upper floor. To the right is the enormous open-sided living and dining pavilion, looking across the pool to the large balé. Alongside, a flat-roofed building houses the kitchen and staff quarters.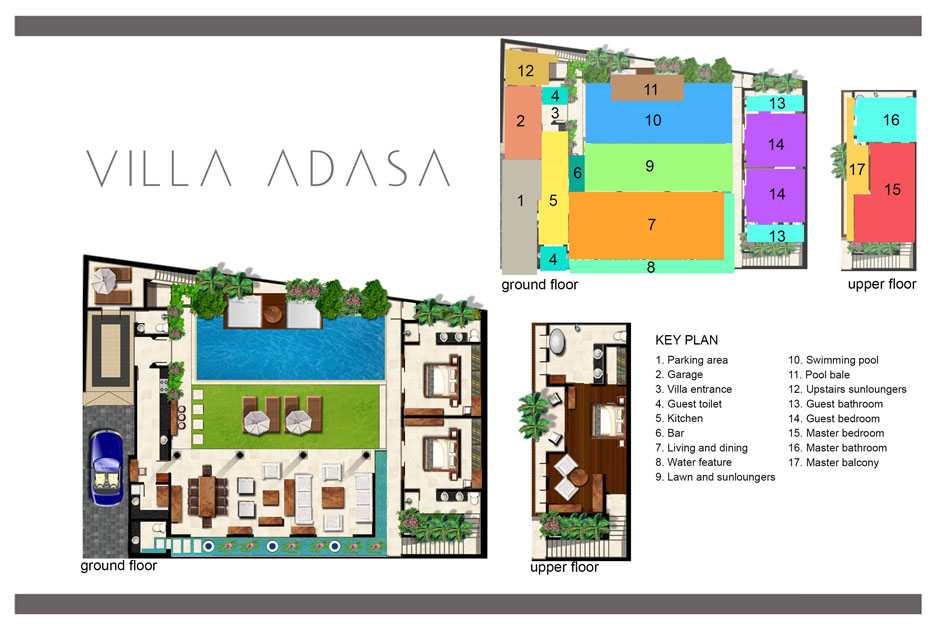 Download in high resolution
Living Areas
The massive 80-square-metre open-sided and fan-cooled living pavilion features a traditional thatched roof, sandstone walls and an expanse of terrazzo floor lined by a fishpond with antique stone water features on one side, the pool wall on the other. Cream sofas covered with colourful batik cushions create a comfortable seating area, while a handcrafted teakwood dining table provides seating for eight in supremely comfortable wicker armchairs.
Adjacent to the swimming pool, the modern galley kitchen's whitewashed shutters slide open to create a bar of recycled teak, a favourite area for cocktails, a late breakfast, a quiet lunch or snacks at any time. This wing also contains staff and service areas.
All your entertainment needs are catered for with a wireless Sonos sound system accessible throughout the villa and a large-screen HD TV.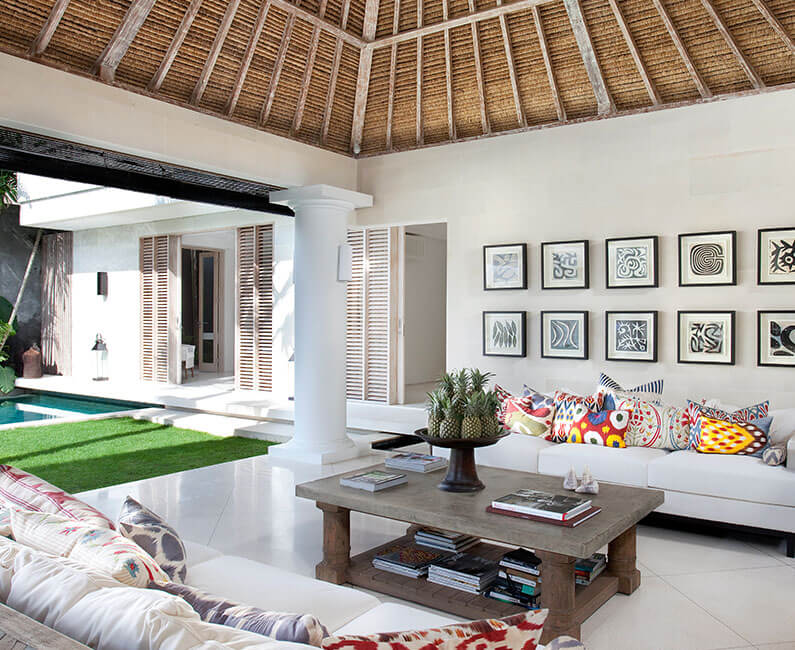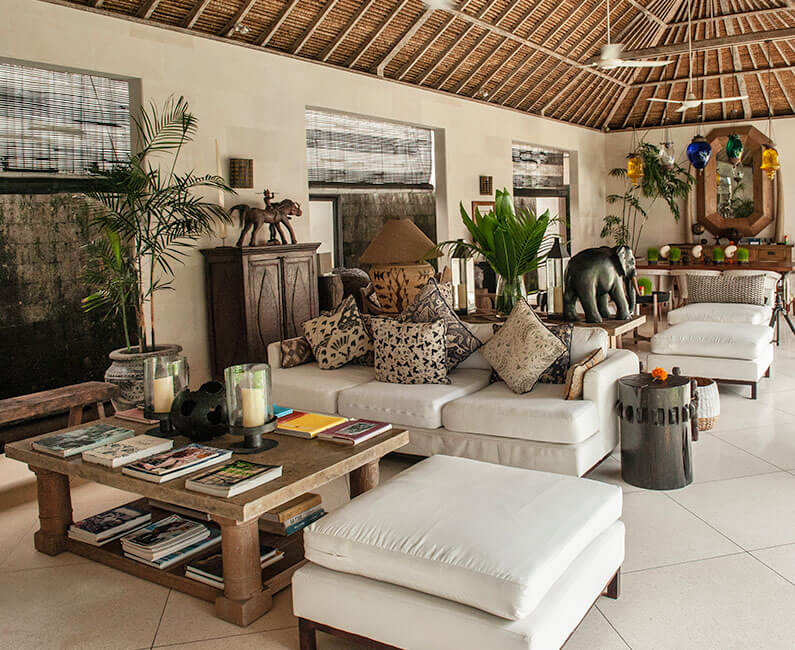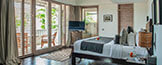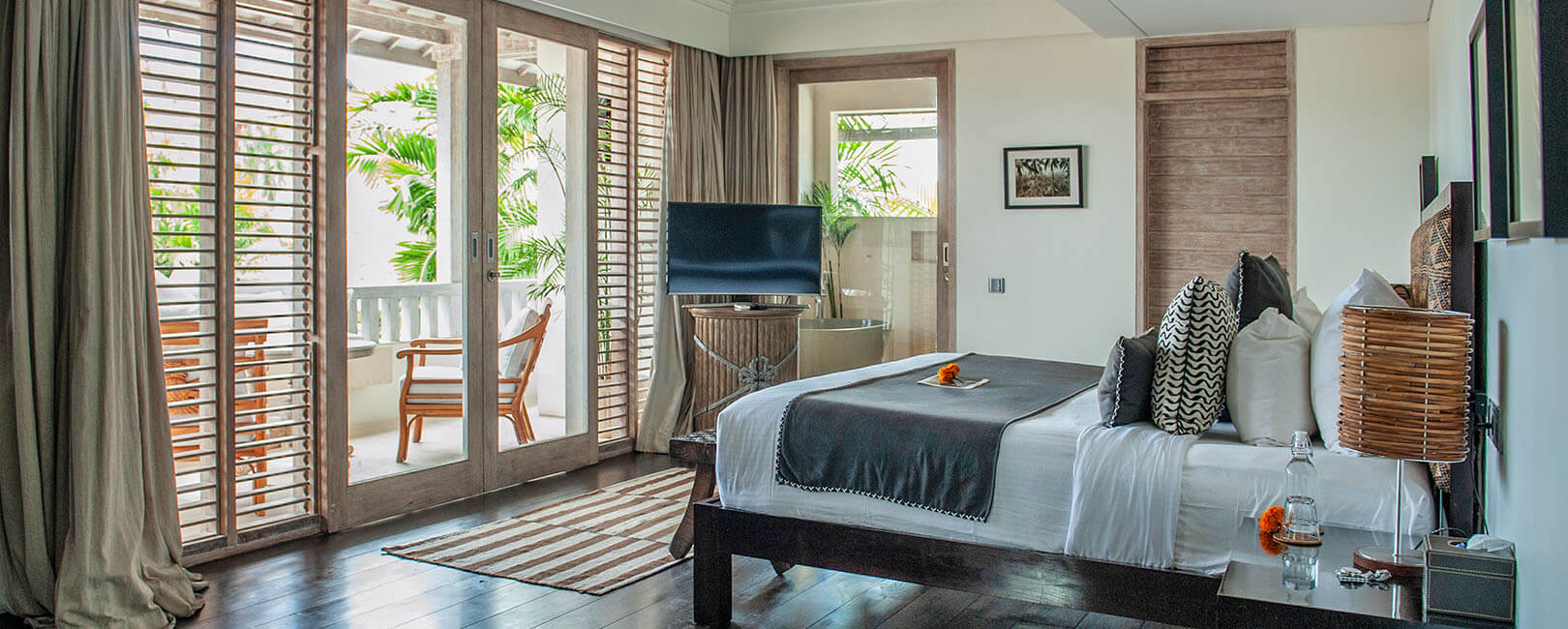 Master bedroom suite
The master suite spreads out over the entire second level of the bedroom wing. A king-size bed dressed with goosedown duvet and luxury linen sits on a floor of polished teakwood enriched with Tibetan rugs under a soaring vaulted roof. To one side is a study area with a wall of wardrobes, a reading corner and HD TV and DVD player. Opposite is the bathroom, with statement bathtub, walk-in shower and wide opening perfectly framing the sacred Gunung Agung mountain on a clear day. A private terrace runs the full length of the suite, where a built-in daybed provides the perfect sunset spot.
Guest bedrooms
The two guest bedrooms look out over the pool, with sliding glass doors opening onto the lawn. They both offer the flexibility of a king-size bed that can be converted to twins, making them equally suitable for children and friends as for couples. Each has a dressing area with plenty of wardrobe space, and an imposing sandstone-lined bathroom with soaring palms forming an indoor garden. With HD TVs and DVD players, guests may retire to air-conditioned comfort to watch a movie of their choice without fighting for the remote control.